aching all over..
argh. my stupid msn just logged out by itself while i was in the midst of chatting with one of my friends. and the maddening thing is that i cant log back on! annoying. and i had to resort to using web based msn for the last 4 hrs.
it's another quiet day in the office. i long for the days where it used to be noisy. i wonder if it's the sugar in my daily milo that's making me sleep. everytime after drinking, i am nodding my way to dreamland. hmm.
* * * *
that day, i was playing snooker with wei. there were 2 couples playing on the table next to us. girls playing on the snooker table never fails to catch my attention. not sure why, but i always wanted to see how good they are at it. and then, after 30 mins of observation, i came to a conclusion. i think im vain. not entirely superly vain. but enough. sounds like an illogical conclusion, but let me explain.
there's this girl, slightly on the plump side.. playing at the table. she's prob ard my height. she was wearing this black bod hugging round neck long sleeve top and 3/4 tapered cargo pants that cuts right off after the knee. her hips were quite big, but they were emphasized further with big pocket flaps flipping by her side when she moves. gawd, she got me memerized in my own thoughts. i was thinking to myself.. i NEVER EVER want to be caught looking like tat. not that she's not pleasant, but i figured, she could have dressed to look better. her clothes just made her look loads fatter, and yes, the image freak in me begin to think of clothes that she could wear to make her look better.
and so, back to my conclusion. i am indeed vain. tho i dont slap layers of make-up on my face, at least i care abt the kind of clothes i wear. the image i protray (not that i watch it every single minute), and most importantly, choosing and wearing stuff that flatters me. not that i look good all the time, but i guess it's part of experimenting.. trial and error allows u learn what's good and what's not.
i wont argue im not skinny. i think many would want to be my size. but seriously speaking, my tummy is huge. believe it or not, but im speaking the truth. and it's seriously getting a tad too huge for my size. subconsciously, i also find myself sucking in my tummy at times to make it look flat. yes, i do not have a naturally flat tummy. and that bothers me too. at the end of the day, im still a girl. and those who say i dun have any tummy.. please go and die. wei doesnt poke fun of my little tummmy and call me "fei mei" for no apparent reason. i can only say, i very consciously choose clothes that hides my tummy. so, any sponsers for me to go marie france?
i slept at 5.30am this morning. but i took a 2hr nap last nite before dinner. and the whole time, i was trying to sort out the photos and burn them into CDR and DVDs. what an agony. i had fun snapping photos on the trip and then spend the next 2 weeks sorting that out. Grrr..
here's the collage of annie's farewell dinner at swensens..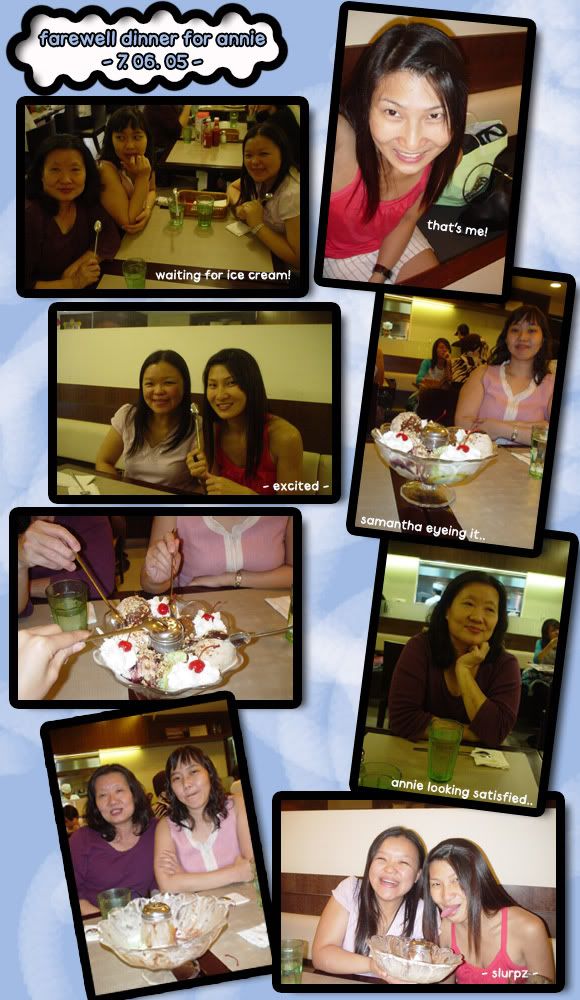 here's the collage on wei's bdae.. just 2 days ago..

and here's day 6 of spain trip..


and day 7!! happy viewing!!