i have been dithering about this for like the longest time. The thing is, i'm too lazy to take pictures of the clothes and too lazy to search for the pictures online.. procrastination at work, really.
but with just days away (i think), i better get down to it before i really have NO time to spare when my days are rolled into nursing and caring for the baby.
i previously blogged about(or was it a tweet?) me ordering some maternity clothes from gap & old navy earlier this year and my orders got bungled up and was not sent to my aunt till much later (late feb). it was supposed to get to me then, but my aunt fell and hurt her ankle and had to cancel her trip to singapore, leaving all my clothes in the US (where i usually shipped my shopping to). I got her to mail them to me eventually (wah! expensive shipping cost of $80), considering how the clothes were 'time-sensitive' but it got to me late march when it finally arrived.
and i decided not to wear them anymore except a few because i'm just too close to the finishing line and i don't want to let the clothes go to waste. i'm letting them go here cheaply (considering the stronger US dollar when i bought them and the postage charges that i paid for shipping it to singapore).
//edit
dimensions updated!
//end of edit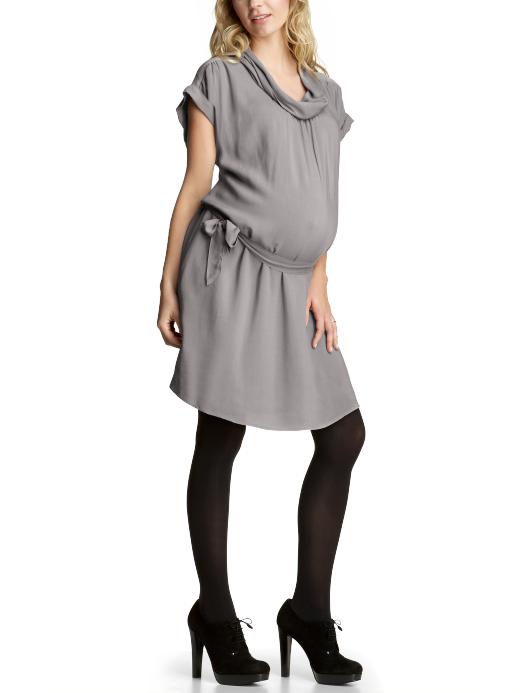 GAP MATERNITY belted cowlneck dress in silver grey, size s (fits a small medium too). brand new with tag, letting this go at s$25 (postage inclusive), currently retailing at us$24.99 on gap.com (price before sales tax). this is a lovely, silky, flowy dress and the material is extremely light and very soft. great for occasions or dinners.
dimensions: across chest – 21″, arm hole – 8.5″, neck opening – 12.5″, length – 34-36″ (longer in front to cater for tummy)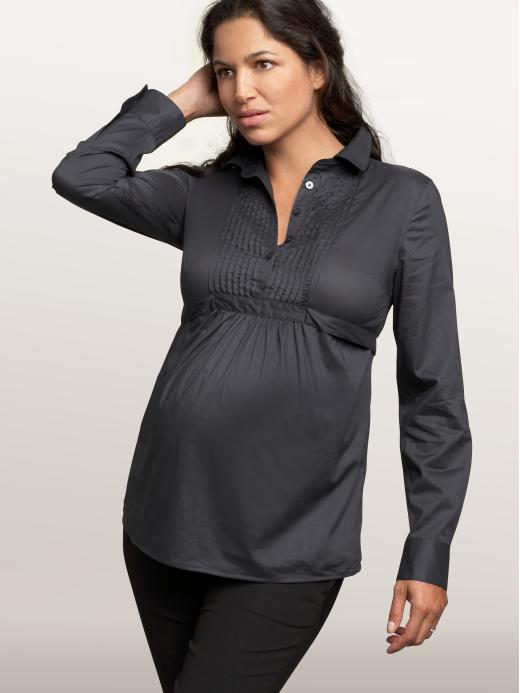 GAP MATERNITY long sleeved empire shirt, black, size s. (NOTE: the item is no longer available on gap.com, but it's similar to shirt on model minus the pinstrips where the shirt buttons are). actual top in the smaller pic. i have 2 of these, 1 with and 1 without tag (not sure where the tag went to!). letting this go at s$25 as well (local postage inclusive). this is a staple top that's great for office wear during work, grows with your bump as well with the gathers in the front.
dimensions: across chest – 19″, arm hole – 8.5″, sleeve length – 23.5″, neck opening – 8″, length – 32″

GAP MATERNITY wrap elbow top, black, size s (i only managed to find the blue picture). brand new with tag as well, also at s$25 (local postage inclusive). this is cotton in material and a very comfy top to don for everyday wear.
dimensions: across chest – 18″ (this is a wrap so this is measured with maximum wrap), arm hole – 8″ (the smaller opening at end of sleeve is 5″), neck opening – 8.5″, length – 31″

OLD NAVY women's oxford-stripe a-lined skirt, size m, brand new with tag. this is too big for me, comes with elastic band so it's great to wear during maternity too, else it's a pretty normal looking casual skirt. i bought it at full price but it's now on sale on oldnavy.com. letting this go at s$20 (local postage inclusive). dimensions: waist across – 13″, length – 16.5″
ok. that's it for now. too tired and my butt is getting a tad painful sitting in the same position for too long. help spread the word to your friends who might be keen. think i'll be selling away my other worn maternity clothes after i pop at a really cheap deal (since i don't have use of them anymore), so do check out this space if you are keen, though i think it wont be there soon (till i settle down a routine with the baby).