lau kok kok..
i think age is catching up with me faster than i know it. for the first time in my life.. i am suffering from jet lag. in the past, i never had any problems adjusting the timing back, but for the past 5 nites, i have been sleeping ard 4+ or 5+ in the morning. even when i attempt to sleep at 2+ or 3, i just cant get to sleep. -grrr-
u can imagine how physically tired i am. having to wake at 7.30am in the morning everyday to head off for work. today, im superly late. strolled in at 9.10am. i think fatigue is getting the hold of me. my shoulders are aching so badly. my eyes are constantly shutting. i need some adrenaline to keep me going.
i miss mich. somehow.. the days without her presence on msn feels different. a little empty without her noise on my blog. hee.
dinner with the rest last nite was great. took some pictures.. but dont think am going to upload them as yet. in the meanwhile.. here are the spain photos… (someone mentioned that my blog is lagging, please bear with it cos there are loads of photos to show!)
Spanish dinner at end of day 1..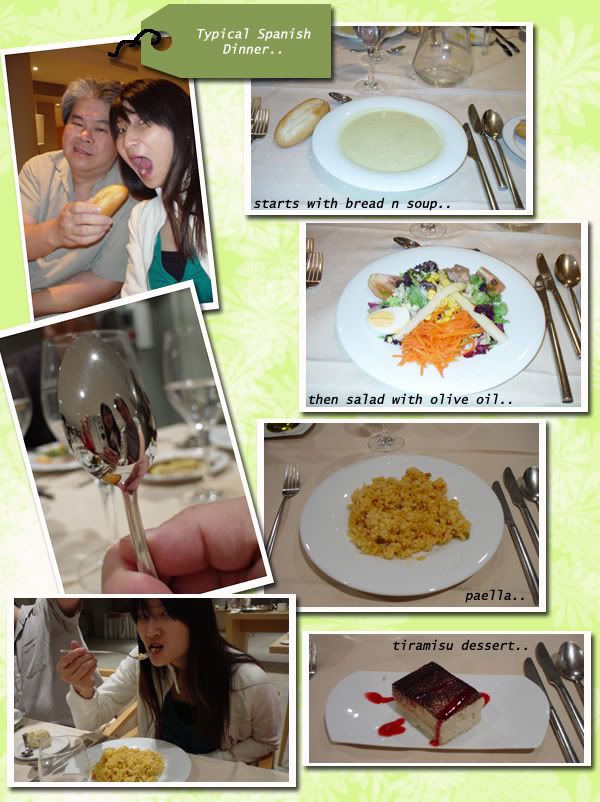 Day 2 in spain