and here's day 6 of spain trip where we crossed over to Lisbon, Portugal. I extract this portion of the blog entry out from an original lengthy blog entry written very long ago. You can read the original blog post if you are interested.
One of the first activity we did that morning was SHOPPING! And how could i not visit Zara while in Spain? Post shopping, it was a long road journey to Lisbon, Portugal. We drove past neverending fields of cows and cattle and it was a calming sight indeed.
Once we were over the border, we immediately spotted the iconic places of Lisbon – Port of Lisbon, the Christ of King Statue overlooking Tagus River and of cos the Ponte 25 De Abril & Evora, which is the famed Silver Water Aqueduct and spend the later part of the day treading through the alfama quarters, and climbing to the top of the hill and be greeted by gorgeous view of the entire place.


and day 7 of the trip, we popped over to Park Eduardo IV in the morning. Lovely greens in neat formation. We spotted a diamond house and checked out the Medieval castle of Sao George.
The magnificent structure of the Hieronymite Monastery took my breath away that day. It's an amazing place to be and i took so many photos within the premises..
The Towel of Belem is interesting to look at as well and there was a sorta old charter plane on display. We rounded up the place with some coffee and a really really nice Portuguese tart. Do what the romans do when in Rome, so i eat portuguese tarts in Portugal!
Ended the day with shopping… what's new right?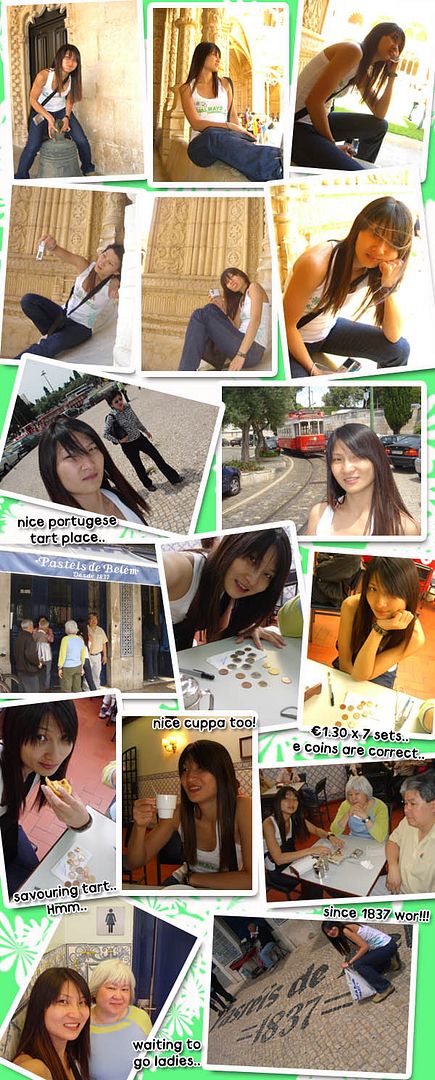 \
I hope you enjoy reading!