On day 2 of my Spain vacation in Barcelona, we journeyed up to Montserrat. The journey up is a little scary because of the long and winding hills and that i kept feeling like the bus is going to collapse over and roll down the hills. While the view is breath-taking and spectacular,  i spend quite a fair bit of time feeling motion sick.

The Sanctuary of Our Lady & Benedictine Monastery has amazing views. It was so high on the hilltop, you could potentially feel a little altitude sick. We toured around the place and checked out the statue of Madonna. We also took a vertical cable car which is quite an experience in itself.  If you ever go to Barcelona, i totally recommend taking the tour up to Montserrat. it's like a place really close to heaven filled with amazing sights.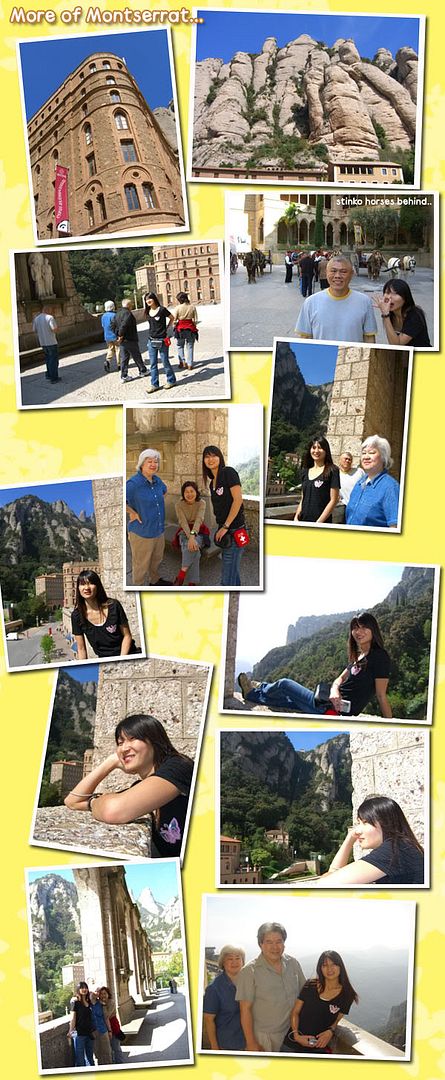 We visited Park Guell in the later part of the day. Park Guell is one of Antonio Gaudi's works and the whole place is bustling with people. I am just gonna warn you about this place – be careful and hold tight to all your belongings and don't ever let a stranger be close to you. STAY AWAY FROM EVERYBODY!
Well, i got pick-pocketed here. Shocking experience because all i sit was to sit down and POSE FOR A PICTURE. Totally unaware that my wallet is being picked and even my uncle who was taking the picture for me didnt see it. My other uncle who was across the plaza, shouted at the top of his voice, ran towards me angrily and hit the hand of the girl beside me.
My wallet fell to the ground. 
i just sat there, stunned at everything that was happening in that split second and totally in shock. After that incident, i had my hands on my pouch the entire time (see pictures below) and still felt shocked. My uncle tried to mimic the pickpocket in one of the pictures below (he was the one that caught the pickpocket) and trying to lighten me up.

The whole place felt a little mythical to me, unstructured buildings, colorful mosaic tiles, interesting structures and all. Definitely worth every minute of the visit.
The rest of the day was spent in Barcelona City Center, checking out Ramblas, the most popular and colorful boulevard in Barcelona City Centre, the port de barcelona where beautiful boats are docked along the wharfs and fishes swimming in the sea.
We also saw the famed Christopher Columbus Monument as well as a wet market. Interesting. Ended the day a mandatory trip to Hard Rock Cafe to grab some souvenirs.

This post is part of my 10 day spain vacation (& portugal) with the following itinerary: Barcelona – Valencia – Alicante – Granada – Seville – Lisbon (Portugal)- Salamanca – Toledo – Madrid. If you are keen, do check out the rest of the spain blog entries and portugal blog entry.