ok. pictures of the bala outing with the usual LJ suspects. i spent a whole chunk of time editing the pictures that when i am finally done… i lost all interest in blogging about it.
that's so blah! 🙁
i.seriously.cannot.remember.all.the.interesting.bits.that.night!
well, in short.. 7 babes (+ 6 SS) and 1 alcoholic man. as usual, it's a blast!
errm, my words don't do justice.. just see the pictures!
and then i got drunk…
SERIOUSLY SPEAKING. I was NOT drunk. i was just pretending to be drunk cos i was really tired the other day and feeling restless.. i thought it was fun pretending. out came the cammies snapping non stop and a lot of pictures were taken of me in that SPLIT second. there were some obscene ones too, like this..

see? you'll never know who you'll fall prey to…
all in the name of fun!
and so, sereen + hubby, wen and me trooped over to glutton's bay for dinner supper while waiting for derrick to come fetch me home. it's been a long time since we last did that. it's was fun. am missing the old times quite badly.
we should really do this more often. or chill in pishako's house, maybe?
//edit @ 9.46pm
oh oh! i missed this out.. check out the avatars on our daily chat window..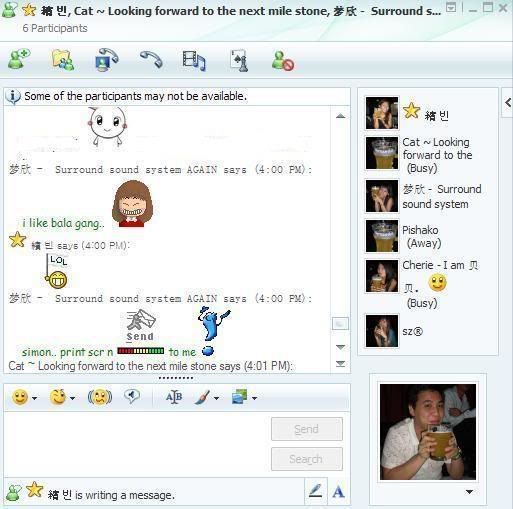 you probably can tell how crazy we are! 🙂
LJ GANG ALERT! If you wanna rip the collages, please take note there are 3 different collages to copy!
//edit