Monday Blues..
it's the dreaded monday again. my shoulders are aching so much. i think i have very tense shoulders. can someone teach me how to relax it?
the past weekend has been really packed. i hardly had the time to rest. with just 3 hours of sleep last night, i don't know if i can survive through the day..
it's gonna be a hectic week ahead and i'm still wondering if i can apply for leave this coming saturday. making a trip with wei's colleagues for a stay at the kelong. kinda excited, but wonder if my leave will be approved.
watched War of the Worlds last nite. a touching show i would say, but the ending sucks. i find it a little lame towards the end..
here's the pics that speak of my past weekend. there are more to come, but i hadnt had the time to compile it yet.
techmexians gathering at cafe cartel!


Guess what? i saw one of the "Jue Dui Superstar" finalist sitting right in front of me amidst my meal. It's the Haagen guy (not sure if i got the spelling right), but his chinese name is chen meng qi. wanted to take a photo and post it here, but was engaged in a conversation and he was gone when i fished out my camera. argh!
Luncheon with colleagues..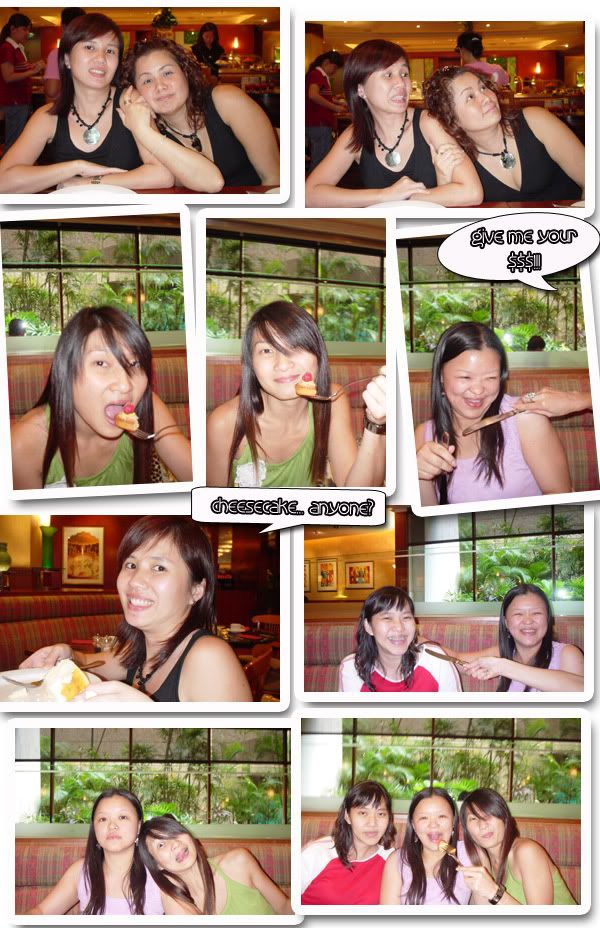 i left the place with exploding stomach and spent a lot of money on shopping thereafter.
loitered around town and waited for wei to come meet me. ended up in bugis for gift shopping for xx. and it's another round of buffet for celebration!
buffet dinner at marina south

and another round of number ball..
reached home at almost 6am. after 23hrs of being awake, i konked out the moment i plonked on the bed. and oh no.. oh no.. it's been a sinful day to my health and wallet.