from wwenzz(wendy)..
Dear friends,
Alex's case is featured in today's Straits Times, Home section, page 2.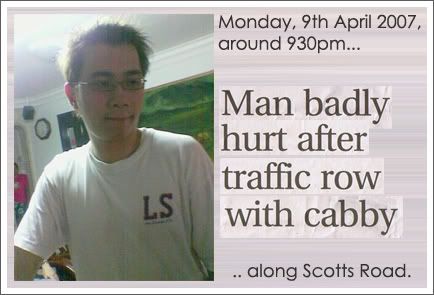 He's currently fighting strong in TTSH's icu and his family is appealing for more witnesses, especially the cabby's passenger.
If you saw the incident, please stand forward and drop us an email at welovealexlim@gmail.com
If you didn't, you can still help by pasting this notice on your journal and spread the words.
Your kind help will be deeply appreciated. Meanwhile, do keep him in your prayers or thoughts.
Thank you so much for taking your time off to read this. Lets hope Alex will pull through this tough time and the witnesses will be found soon.
<3, Wendy Link to article HERE.